45

years of research go into every book
A two book set.
A constitution for a new set of international laws
---
The Altruism Code is to be used in the same way a country uses a constitution. But in this case, it is a constitutional guide for the individual, groups and nations.
The Altruism Code does for individual, groups and regions what a constitution does for a country
---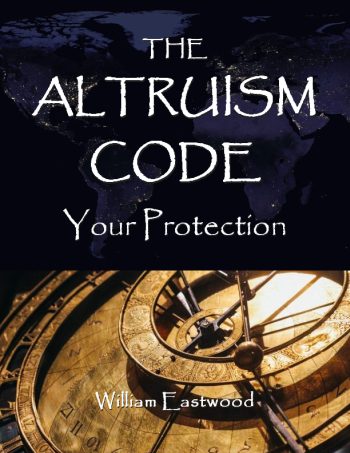 With "THE ALTRUISM CODE – Your Protection," you can stay safe no matter what is going on in the world around you. You can remain untouched in the middle of a war, prosperous in a global recession, healthy in a pandemic, comfortable in a changing climate and joyful rather than depressed.
THE ALTRUISM CODE is the Constitution for a new civilization and the source-code for a new system of U.S. and international law. This code is a unifying principle to heal division and unite the world.
Every person's dignity is protected by universal, intrinsic law and international philosophy altruism law code.
45

45-years of research brings you a path to world peace & a global democracy
---
The book, "INTERNATIONAL PHILOSOPHY," contains instructions on how to use the Altruism Code to transform people, geographical regions and ultimately countries and the entire civilization.
It includes "A Plan to Save Democracy," information on the new inner UN and the Internal Science on which it is based.
Contains guidance on how to create what you want in life.
The people of earth need a global philosophy everyone can agree on to unite humanity and to bring about the vast potential of our civilization and all its individual members. This is it!
In this amazing one of a kind publication, Eastwood explains how his constitution for a new civilization, "The Altruism Code," can be applied to transform individuals, regions and nations. Government, attacks and intrigue are involved and through it all Eastwood comes out with astounding success and creative achievements that are unmatched in the world today!
This is a practical book.
Contains step-by-step guidelines to create miracles, attract synchronistic events and live in gratitude and appreciation. A group of chapters called "Fast Track to Success" gives you simple instructions for achieving your goals.